Item Count:
0
Sub-Total:
$0.00
Please enter search criteria
Apple Device Enrollment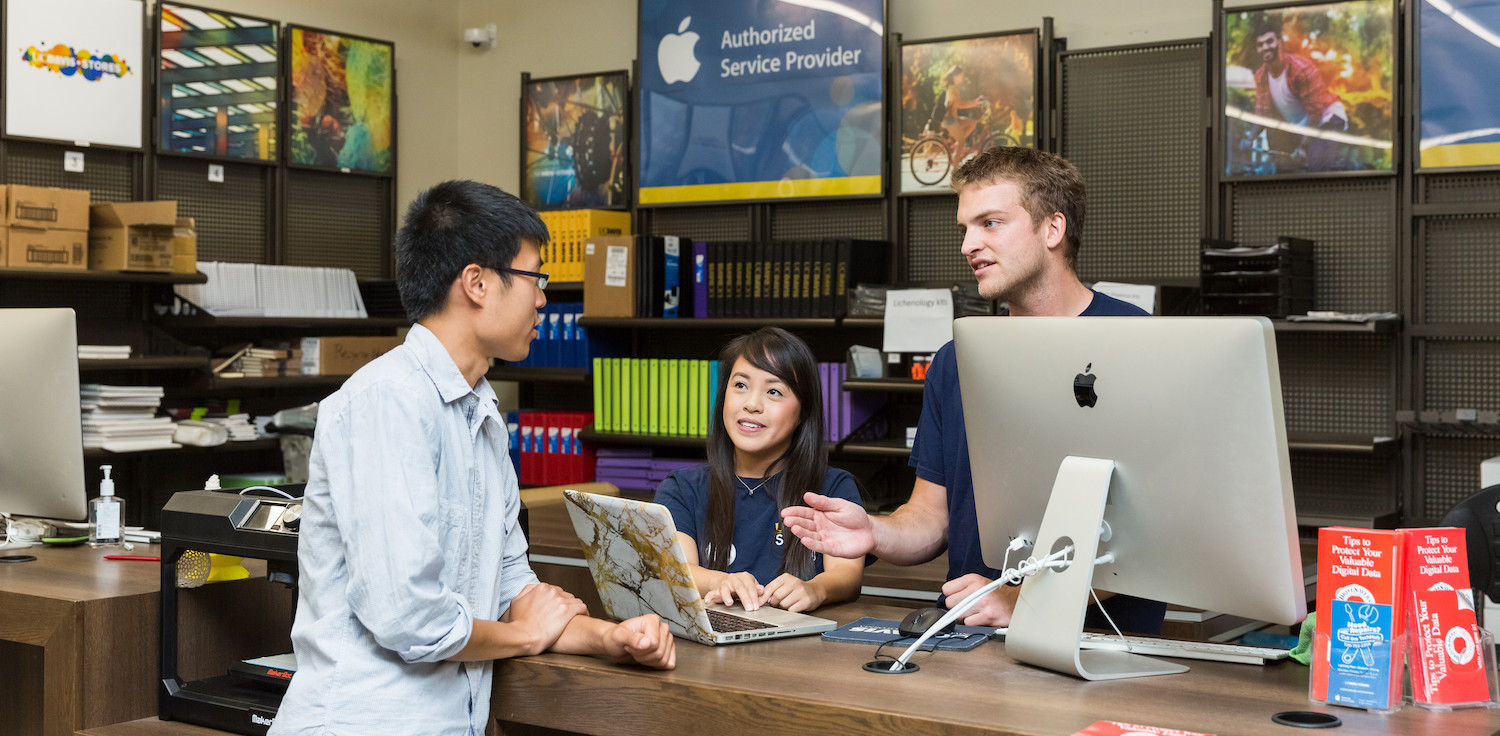 Apple Device Enrollment
Benefits
Purchases made through the UC Davis Stores TechHub and Apple Device Enrollment receive a reduced campus tax rate. The tax rate as of January 2022 is 5.72%.
Purchases through Apple Device Enrollment can be shipped fully compatible with university device management software. Eligible Apple devices are automatically enrolled at the time of purchase (MacOS purchases made through an outside channel are not eligible for Apple Device Enrollment).
Apple Device Enrollment offers the ability for custom configurations on Apple computers (see below for details).
Purchases through Apple Device Enrollment are eligible for reduced Educational pricing on Apple products and AppleCare+ protection plans.
The UC Davis TechHub is an Apple Authorized Service Provider. Apple computers purchased through Apple Device Enrollment are eligible for service at the TechHub including an in-depth diagnostic consultation.
Apple Device Enrollment offers the ability and efficiency of being able to order multiple computers at once for an entire department vs. one at a time.
Purchases through Apple Device Enrollment may be conveniently paid for by using a campus P-card or recharge account.
Payment for repairs on computers purchased through Apple Device Enrollment is not required at the time of service. Repairs are billed to departmental recharge accounts.
Apple computers purchased through Apple Device Enrollment are eligible for in-store pick up, campus delivery or shipping nationwide.
Ordering
Campus departments wishing to purchase Apple computers using Apple Device Enrollment should visit our Apple computers page for standard "out-of-the-box" computers.
For any *custom Apple computer orders not listed in our store catalog, please follow these steps:
Visit the Apple Education website to build your custom order.
Select Review Bag. On the screen titled "Review Bag," expand the product details. Take a screenshot of the product details and pricing (Mac: Shift + Command + 3 | PC: Windows + Shift + S). All desired products and custom specifications must be visible.
Email the screenshot and completed fillable Department Purchase Order to

[email protected]

In your email, please be sure Include your Organization ID. If you are unsure of your organization's ID, please consult with your internal IT support staff.
TechHub staff will respond to you within two business days with an invoice. Reference the invoice when placing orders. Orders will include all items and machine specifications in the screenshot and any additional items requested on the Department Purchase Order. Be sure to include additional items such as AppleCare+ or any Apple accessories.
If you wish to have your order delivered to an on-campus building, please specify in email when placing your order.



*Important: Custom Apple products are manufactured to order. Lead time is typically 3-5 weeks; new and/or high-demand products can take up to 6-8 weeks. Custom configured products are not eligible for order cancellation or return.
Shipping
We ship anywhere in the US. Fees include insurance and are calculated when orders are placed. Choose from ground or two-day shipping options.
Store Pick-up
Orders are available for pick up at the Campus store during regular business hours with a campus ID.
Campus Delivery
Campus delivery is on us! Please include your delivery address with orders via email or on department purchase forms.
Payment
We take Department Purchase Forms and P-Card for payments related to any departmental purchases.